6 hours of filming

Multi-camera capture of your wedding day

2 cinematographers

Professional wireless audio

Specialized filming & stabilization equipment
3-5 min. creatively edited 4k Ultra High Definition highlight video

Personalized legally licensed soundtrack

Aerial footage (location/weather permitting)

Digital delivery/private online hosting
4 week delivery
60 Second Instagram Trailer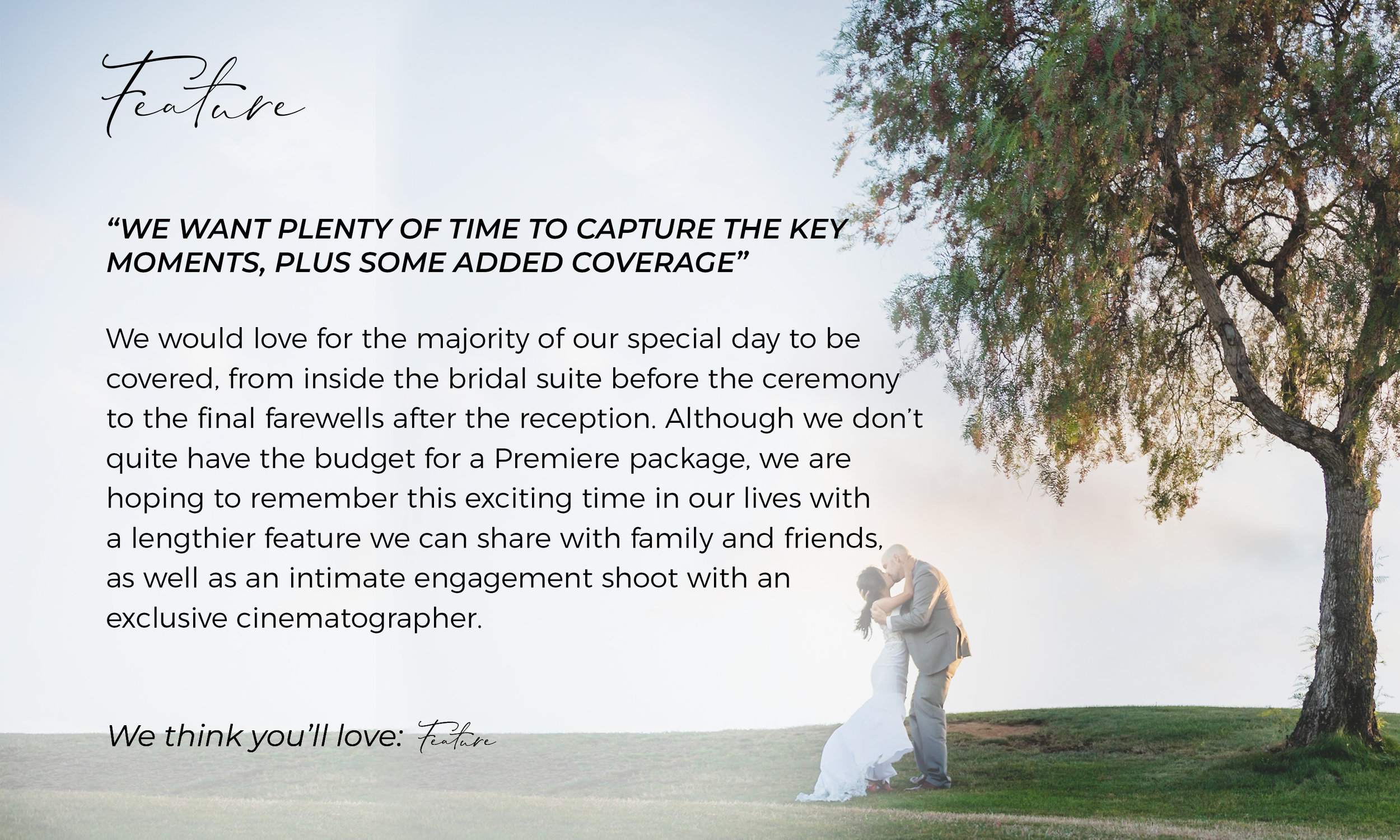 8 hours of filming

Multi-camera capture of your wedding day

2 cinematographers

Professional wireless audio

Specialized filming & stabilization equipment
5-7 min. creatively edited 4k Ultra High Definition highlight video

Personalized legally licensed soundtrack

Aerial footage (location/weather permitting)

Digital delivery/private online hosting
4 week delivery
60 Second Instagram Trailer
Raw Footage on Hard Drive
10 hours of filming

Multi-camera capture of your wedding day

2 cinematographers, 1 assistant

Professional wireless audio

Specialized filming & stabilization equipment
5-7 min. creatively edited 4k Ultra High Definition highlight video

Personalized legally licensed soundtrack

Aerial footage (location/weather permitting)

Digital delivery/private online hosting
4 week delivery
60 Second Instagram Trailer
Raw Footage on Hard Drive
Full-length Documentary Edited Ceremony & Reception Film
Wedding Videography Packages
If a picture says a thousand words, then a video tells the whole story. Our wedding videography packages transport you back to your wedding day, so you can re-experience all your favorite moments of laughter and love in the most immersive format available.
All of our wedding videography packages are shot in 4k Ultra High Definition with professional wireless audio to make you feel as if you were once again standing at the altar with the love of your life, getting ready to say "I do".
To ensure you don't miss a moment of the action, you will be accompanied throughout the day by two of our highly experienced cinematographers, whose expertise in weddings is invaluable in capturing all the laughs, smiles, speeches, and emotions of you, your significant other, and your treasured guests on your big day.
Whether you desire a full-length film of your wedding ceremony and reception, or a beautifully edited wedding video to share on social media with your friends and family, our wedding videography packages are designed to fit your specific needs. Every wedding and couple are unique, which makes it so important to have cinematographers you trust, who can be flexible in their approach to your wedding.
See for yourself the stunning cinematography we have provided for hundreds of happy couples by visiting our Vimeo page or reading the amazing love stories of our clients in our Couple of the Week blog posts!
If you have any questions or would like to speak with our team, to help decide which wedding videography package is best for you, please contact us through our contact page!
We can't wait to help you commemorate your wedding day, to be enjoyed for years to come on anniversaries, rainy days, or to share with those you have yet to meet; displaying the love that brought you all together.